Investing 101
Before I dig into where you should invest your stimulus check, I want to make sure I lay the ground work of what investing is and why it is important. I'm sure you've heard of investing… I hope! But just in case, I'll go ahead and define it.
"Investing is expending money with the expectation of achieving a profit or material result by putting it into financial schemes, shares, or property, or by using it to develop a commercial venture."
A key component of this definition is the intent behind the action – to achieve a profit or material result. In layman's terms, this means you will put money into something with the intent to get more money in the future.
This is very different than saving. Saving is putting money aside for a longer period of time. Investing is riskier, but you have an opportunity for growth. You are probably saying, "My savings account pays me interest, so that counts as investing. Right?" I'll let the chart below speak for itself. Even a HIGH yield savings account at 2%, the amount of growth is very minimal.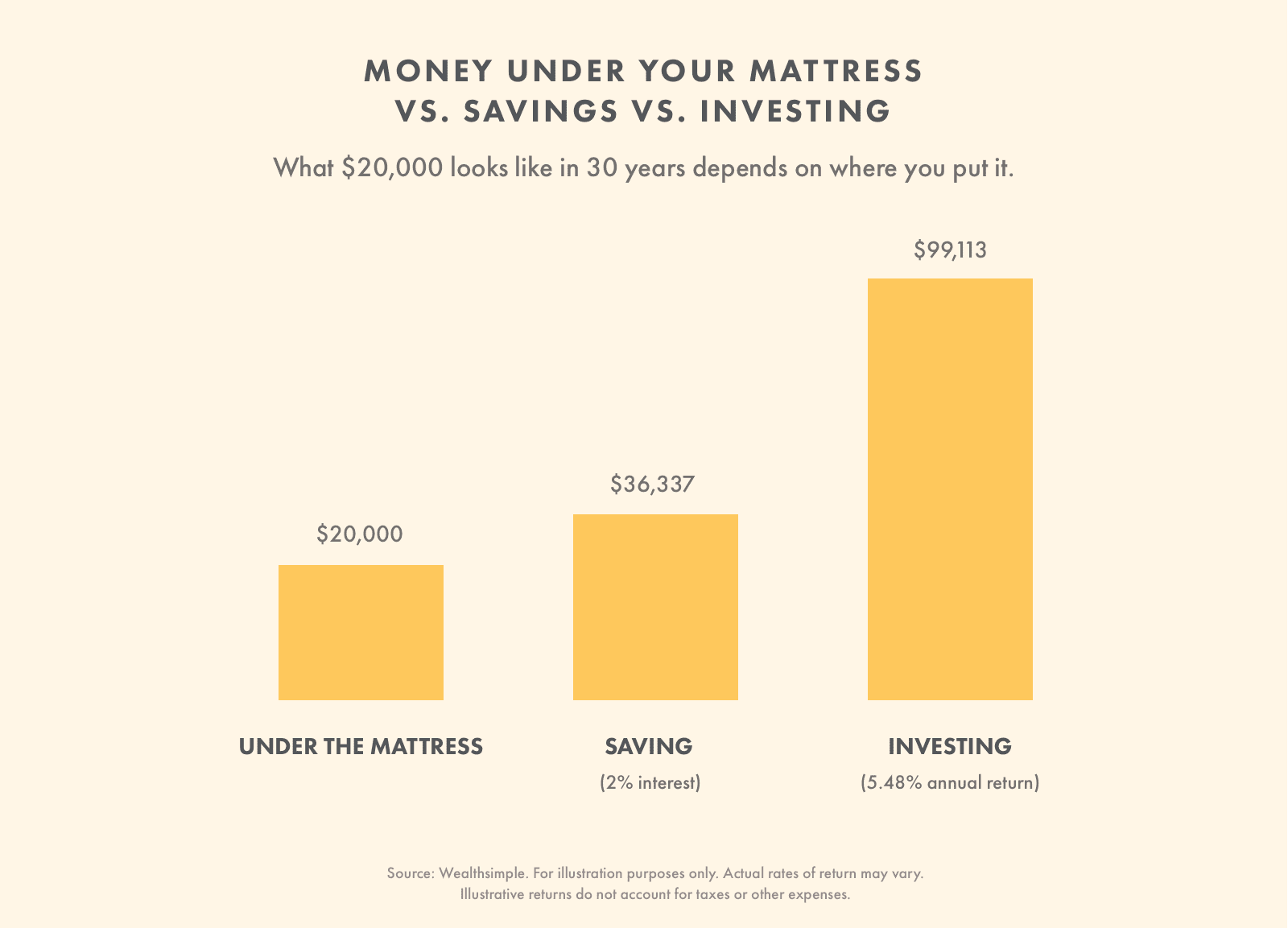 A lot of people say, "I need to save for retirement." Really, you should be investing for retirement. This isn't to say that saving money has no place in your financial plan. Saving is what you should do with your money for short term goals. It is more easily accessible. Investing on the other hand should be earmarked for long-term goals like retirement.
What are the basics of investing?
If you are still wondering why you should invest, I'll give you one more great reason. Heard of inflation? Inflation basically decreases the purchasing power of cash. So, if you think about the $100 you have under your mattress, it will be worth less 10 years from now than it is today. Crazy, right? The current inflation rate is roughly 3%.  $100 today will only be able to buy $97 worth of groceries even one year from now. So really, by saving money, you are losing money. By investing, rather than saving, you not only make up for inflation, but your money begins working for you and you can build wealth.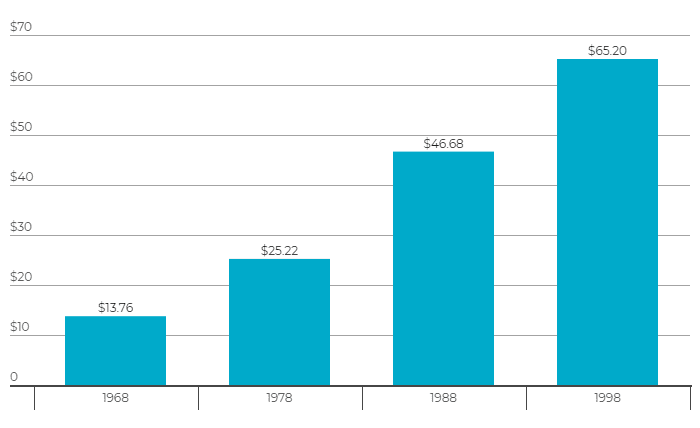 How do I start investing with little money?
Invest a few cents here and there using an app such as acorn
Set up small, monthly transfers from your checking account
Kick the Starbucks habit and make your own coffee
Immediately invest any tax refunds
Ask relatives for investing money, rather than other gifts
When is the best time to begin investing?
As the popular Chinese proverb says, "The best time to plant a tree was 20 years ago, the second best time is now". An early start pays off when it comes to investing. The more time your money has to compound on itself, the more money you will have.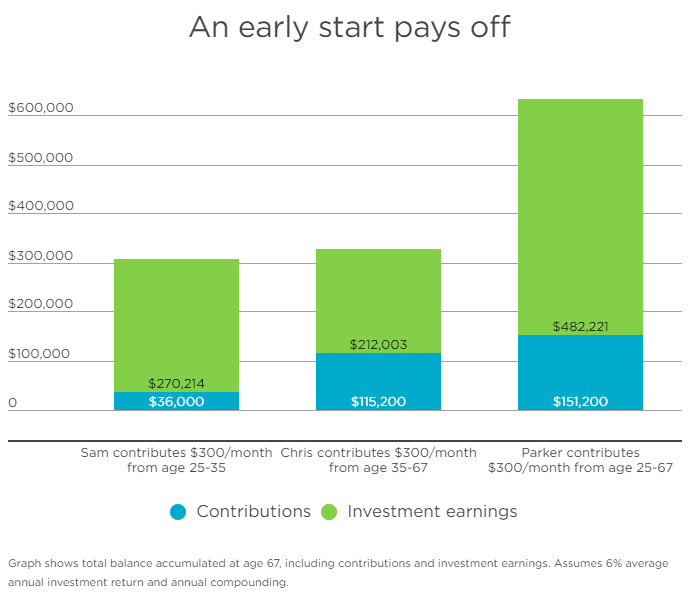 What should I do before I begin investing?
Because an early start is so important when it comes to investing, there is not much that you should do before investing. However, you will want to make sure that you have a solid financial foundation before taking any risk with your money. With investments, there are varying risks depending on where you choose to invest your money, but with almost all investments, there is a chance for losing money. Before investing, I would recommend that you 1. Get out of debt, 2. Start an emergency fund and 3. Determine your goals and plan.
It is fairly easy to come to a simple calculation on which debts should be paid off before investing. If you have credit card debt with a 15% interest rate and you want to invest your money with the hope to make a 10% annual return, you would be better off paying off your credit card debt. However, everyone has varying tolerances for risk and everyone has varying tolerances for debt. While it is financially best to pay off any high interest debt before investing, money isn't all logical. It is emotional as well. There is something to be said about being completely debt free.
The second bullet point is to start an emergency fund. This is so you have a rainy day fund to fall back on if you have unforeseen expenses come up. If all of your extra cash is held in an investment, it may not be easily withdrawn. It also has the chance to decrease in value. You don't want to backpedal and get back into credit card debt if you can afford not to. A great way to begin this emergency fund is by eliminating any poor spending habits you may have. If you know you have a few spending leaks, it will not only help you create this emergency fund, but it will help with your long term investing strategy because you will have more money that you will be able to invest.
The third bullet point is to determine your goals and plan. Why do you want to invest? How much? For how long? How much risk are you willing to take on? What are you hoping to do with the money? Based on these answers, your investment strategy will change and knowing your end goal is crucial if you plan on investing smartly.
Now, the question you have been waiting for…
How should I invest my stimulus check?
Let me start by giving you a little background on WHY we have received stimulus checks (in my personal opinion). At the beginning of this year, the U.S. government started to see signs of the coronavirus which they feared would cause a recession. There are a few tools they have at their disposal to counteract a recession and keep the economy moving. One of the strategies the federal reserve used was cutting interest rates. Normally, this increases the amount of spending that occurs in an economy because buying a car or a house essentially becomes cheaper. They actually pulled this lever two times in about two weeks. At this same time if you can remember, there were beginning to be layoffs, furloughs, and social distancing. This means less opportunity for sales.
If this isn't bad enough, fear in the world brought the stock market crashing down. Now even people who were not laid off now had a significantly decreased wealth position and would be less likely to go out and buy non-essential items (We already know people didn't stop buying toilet paper…).
Enter stimulus checks.
Now that many Americans have their stimulus checks one of two things can happen. If Americans are still fearful, the money will be saved. Otherwise, the money will be spent and enter back into the economy for an added "stimulus", hence the name – "stimulus checks".
Because I am not a financial planner, I will not give you direct advice on which stocks or mutual funds to invest in. However, if you want to go this route, we have a great one we work with. Instead, I will talk in generalities on what you should do with your stimulus check.
The intent behind the stimulus check is to ensure that individuals and families are able to make ends meet and cover essential bills and debt obligations you may have. This is priority number 1.
Make sure you have paid off your debt and started an emergency fund. If you haven't done that yet, now is the perfect time!
Contribute to Your 401(k): If you have an employer match, this is the very first option I would use. An employer match guarantees an immediate 100% return on your investment. Not bad! (Here is another resource on how the Coronavirus has impacted your 401(k)) Even a novice investor knows that is great.
Invest in a low-cost index fund. This is an easy way to dip your toe into the market without as much risk. Don't forget to follow your investing strategy! If you want to go more in depth
Need a new computer for your office, want to learn a new skill that will help give you a competitive edge? Invest in yourself or your business.
No matter what you choose, if you are married – make sure your spouse is on board!!!
If you want to physically invest your money in a more traditional method here are a few different options:
What are different types of investments?
Stocks
Bonds
ETFs
Mutual Funds
Cash Equivalents
Real Estate
REITs
Commodities
How much can you make by investing your stimulus check?
As a side note, want to know how much you could earn on your stimulus check? While everyone's stimulus check varies, people can expect to receive up to $1,200 ($2,400 for couples), assuming their adjusted gross income (AGI) for their most recent federal tax filing was under $75,000 (or $150,000 for a couple filing jointly). Individuals and couples filing jointly with respective AGI's above $99,000 and $198,000 won't qualify for a stimulus check, while dollar figures in between these amounts ($75,000 to $99,000 in AGI for single filers, and $150,000 to $198,000 in AGI for couples) will receive a reduced payout. Parents will also receive $500 per qualifying child (aged 16 and under).
For these calculations, I will use the base of $1,200.
Years invested
Total, based on a
5% annual return:
Total, based on a
7% annual return:
Total, based on a
10% annual return:
10 years
$1,967
$2,347
$3,128
15 years
$2,516
$3,335
$5,044
20 years
$3,217
$4,684
$8,130
25 years
$4,111
$6,576
$13,099
30 years
$5,252
$9,299
$21,103
Top 4 Investing Tips
If you have decided to invest the money, here are a few of my best investing tips:
Avoid lifestyle creep
Invest constantly, even if it is only a little
Diversify your investments
Invest for the long-run
How much money do I need to start investing?
While some financial institutions require you to have a minimum balance to invest with them, there are plenty of ways to invest with as low little as $100.
Where do I start to learn about investing?
As I mentioned above, it is possible to start investing with a very small amount of money. It doesn't have to be complicated either. You'll want to do your homework as a new investor, but the best place to start is by asking a trusted advisor questions. We have advisors on staff that probably already know your finances by helping with your tax preparation. They also offer personal financial coaching to help you learn financial basics and achieve your financial goals. Other ways to learn about investing include: books, internet, investing forums, and even stock simulators. There are so many resources available to learn these skills. The only thing stopping you is the decision to begin!
Clark Boyd, COO